AS: Peter, I can still remember running for the library at the end of lunch. And that's what we did from then on. I'd go and do extra questions by myself. I'd bring them back to Ms Russell and say, "Look, you don't need to mark them. I've checked them and they're all correct. In fact, I think there's a misprint in question 37." Ms Russell was a great teacher. Great teachers are often ones who realise that a certain kid needs a particular challenge, or a little bit of support, and with me, she just shovelled in more and more maths. A few years later I got a life-changing scholarship to St Aloysius College.
Fitz: You were there with Joe Hockey, am I right?
AS: He was my cadet commander in Year 9! So if we'd ever been invaded by Monte St Angelo or another local girls' school I would have been first up out of the trenches at Sergeant Joe's command.
Fitz: The first time I noticed you, I was invited to do a debate for Sydney Uni against Oxford at a rugby club function, and thought I blew everyone off the stage until you came up and blew me off the stage. I wrote about you in the Herald, so can I claim to have invented you, or at least discovered you?
AS: [Drolly.] Absolutely. And if it wasn't for that. I'd still be just hanging around Wentworth Park trying to debate my way into being a media superstar!
Fitz: So not long after that you wound up hosting a breakfast show with Wil Anderson at triple j.
AS: Yes. At the time I was doing a PhD in pure maths at Sydney Uni, but I was not meant for it. If I am in a room of randomly selected people, I'm a maths genius. In a room of maths PhDs, I'm as dumb as a box of hammers. Thankfully, someone enrolled me in triple j's first Raw Comedy competition. Now I can crack a joke and was confident on stage, and being the first such comp, the standard was abysmal. So I won! When the Js said, "do you want to come to do some stuff?" that was a very easy choice for me to make.
Fitz: Which led to hosting Breakfast on ABC Radio Sydney, and inventing Dry July, which is coming up?
AS: Indeed. In 2008, we were doing talkback on the subject of giving up alcohol. Three guys got in touch, saying they were having a "dry July" to raise money for the Prince of Wales Hospital. Our listeners all hopped on board and decided they'd sponsor these guys and even do a dry July themselves. One of the guys, a web designer, banged out a page. A month later, instead of three guys raising $3000 for the hospital, 1000 people got together and raised $257,000. Dry July was born. In 15 years we've raised $82 million. It's humbling and the closest thing I have to a legacy.
Fitz: Where does the money go?
AS: Dry July supports adult cancer services. We've helped over 80 hospitals, allied health services, survivorship programs and the like.
Fitz: So how do you define yourself these days? Are you a celebrity mathematician, an author, a republican activist, a thinker, a drinker, a comedian, an MC for hire?
AS: Jack-of-all-trades is a cliched term, but I've always had multiple interests. My main job now is as corporate speaker and MC and with my nerdy mathematics background I talk a lot about digital disruption and AI. All the sexy conversations right now concern how ChatGPT and "large language" models will change the world. I've always said that, in my corporate persona, I'm smarter than the funny guys, and funnier than the smart guys.
Fitz: You're an expert on AI too? I still don't get it. Are we all ruined or are we all going to be OK?
AS: The upsides are gigantic. The downsides are potentially perilous. I'm calmed by the fact that there's a lot of really smart people thinking very hard about it. But we absolutely have to keep an eye on the speed at which artificial intelligence is developing, and the potential misuses is it could be put to: everything from ransomware attacks to facilitating bioterrorism.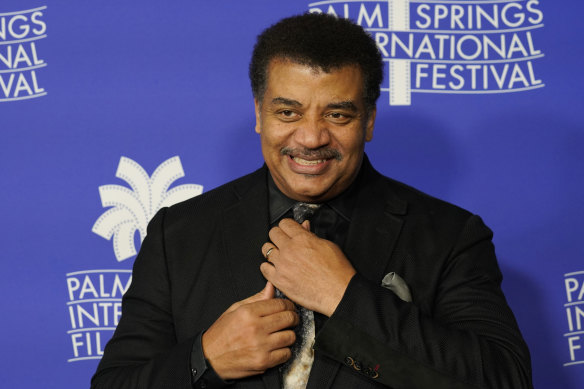 Fitz: Yes, yes, yes. Of course, terrorism. But can we bring it back to us for a moment? I do hope it's not going to threaten mathematicians with … dodgy eyes, or former footballers who can pound typewriters, is it?
AS: For the moment, I think we'll be OK. There's no doubt a lot of professions will be disrupted, maybe even removed. But above all one is safest. A few years ago, Oxford University analysed which industries and professions were the most future-proof against AI? Get this – the single safest of all is … hairdressing! It's as much about the chat and the conversation and therapy as it is the tips and the foils. I think that's awesome.
Fitz: I see that in July you're touring the country, sober, with a very real intelligence, interviewing Neil deGrasse Tyson. I've long seen his name without quite grasping who he is, bar super-brain.
AS: He's a superstar American cosmologist and astrophysicist, a formidable public intellect specialising in the deep questions about space, the universe and life therein. The tour is called Cosmic Perspectives on Civilisation, and we will discuss how the universe works. Where did it come from? Where did life come from? Are we just a unique one-off intelligence in the universe? Is there any likelihood that there are other civilisations out there? Will we ever encounter them? If we did, how would we communicate? Are they, by definition, miles ahead of us? If they've discovered the same things, will their mathematics be the same as ours? Would the physics be the same? Really deep and fun questions. Balancing the fact that we are intelligent enough to be able to contemplate that question against the "infinite" size of the universe; does that mean there has to be millions of other intelligent civilisations out there? Or could we be is this incalculably small statistical fluke?
Loading
Fitz: Buggered if I know. But, bearing in mind that you've been doubly baptised, what about the question, does God exist?
AS: I feel strongly no. For some people religion fulfils that part of humanity that needs a sense of wonder, a sense of awe, a sense of humility. I see the images from the James Webb Telescope, cancer immunotherapy treatments, Breaking Bad season five, and I get more than enough of a sense of wonder and awe and associated humility. I don't need an additional layer of hypothesis that doesn't answer a single question and only raises many, many more issues to complicate things. We'll be taking all those kinds of questions from the floor.
Fitz: Well, here is a question here from the fellow that used to wear a red bandana, over here in the corner. My question is to you, Mr Spencer, not Neil. I've seen you do quite a few maths books which have seriously clever quizzes and puzzles. Hit me with your best shot. Let's go out on your most clever maths quiz or observation.
AS: How about this? If you take a deck of cards and genuinely shuffle it, then that order of cards hasn't ever happened before in the history of the universe. And it will never happen again. I know that with absolute certainty.
Loading
Fitz: I like it, and am appropriately stunned. Next question. Best maths joke?
AS: An infinite number of mathematicians walk into a bar. The first one says, "I'll have a beer". The second one says, "I'll have half a beer". The third one says, "I'll have a quarter of a beer". Before the fourth one can say, "I'll have an eighth of a beer". The barman pours them two beers and says, "piss off, guys." Get it?
Fitz: [Stony silence.]
AS: Hey, tough crowd tonight!
Fitz: Thanks for your infinite time. And I will tell the readers why your joke is funny, when you send it to me. [This, I'm told, is hilarious because the infinite sum of 1 + 1/2 + 1/4 + 1/8 + 1/16 + … = 2.]
Quote Of The Week
"This is one of the saddest days in the history of professional golf. I do believe that the governing bodies, the entities, the professional entities, have sacrificed their principles for profits."
– Brandel Chamblee, an analyst for the Golf Channel, on the PGA selling out to Greg Norman's LIV Golf, a "sportswashing" exercise by Saudi Arabia, investing in sport to cleanse their image.
Joke Of The Week
A woman is having a passionate affair with an inspector from a pest control company. One afternoon, they are carrying on in the bedroom together when her husband arrives home unexpectedly.
"Quick," says the woman to her lover, "into the closet!" and she pushes him in the closet, stark naked. The husband, however, becomes suspicious and after a search of the bedroom discovers the man in the closet.
Loading
"Who are you?" he asks him.
"I'm an inspector from Death to Pests," says the exterminator.
"What are you doing in there?" the husband asks.
"I'm investigating a complaint about an infestation of moths," the man replies.
"And where are your clothes?" asks the husband, glowering.
The man looks down at himself and says, ruefully, "Why, those little bastards!"
Twitter: @Peter_Fitz
The Opinion newsletter is a weekly wrap of views that will challenge, champion and inform your own. Sign up here.