It's understandable, the rich need the famous. The kingdom needs a global sporting identity. They have none. They don't have time to make one either. So just buy the most famous sporting specimen in the world, which is Messi. The Argentine is not bothered by what they would say or how they would perceive him. Forget the activists, the "wokes" and communists. There is little obligation for a sportsman to embrace a politically correct path, or to ride a moral high horse. Diplomacy is the more practical virtue.
Only a few truly great athletes are sensitive to social and moral concerns. Mohammad Ali was one, Jesse was another: Pele and Usain Bolt were not. Perhaps, Ali and Owens were aberrations. The demands of modern sport is such that theirs is a cocooned existence, their life trapped in four walls of an arena, glory and adulation their drug. Often, it's the less great athletes that turn activists or stand for a cause (Megan Rapinoe and Marcus Rashford for example).
Maybe, Messi is truly ignorant of the politics of the country he was endorsing. But before he was unveiled, the families of political prisoners sent him a letter organised by human rights advocacy body Grant Liberty to refuse the offer. "If you say 'yes' to Visit Saudi you are in effect saying yes to all the human rights abuses that take place today in modern Saudi Arabia," read the letter, which was first published in February 2021. "But if you say 'no' you will send an equally powerful message – that human rights matter, that decency matters, that those who torture and murder do not do so with impunity. The world must stand up to those who trample on others. The Saudi regime wants to use you to launder its reputation."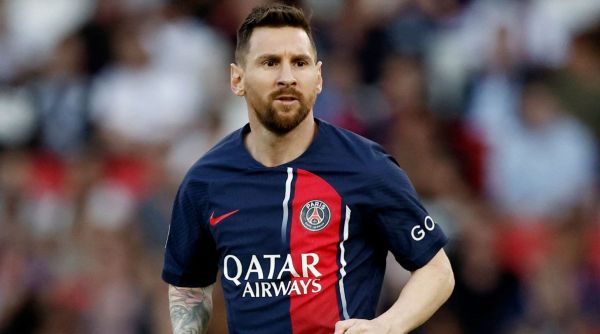 Paris St Germain's Lionel Messi. (Reuters)
Their voices went unheard and unheeded. Maybe, there was external pressure, maybe he truly did not care, maybe the lure of the lucre was irresistible. None of these would, at the end of the day, affect Messi's fame, or his place among the great athletes of all time. But by happenstance or not, Messi is emerging as the face and scale of the ambition of rich and powerful Middle Eastern states. For two years, he was part of PSG, purchased by Qatar to beautify its image before the World Cup. Messi was on the payroll of a Qatar-owned club when the country hosted the World Cup. It is difficult to see him playing football in 2030, the year Saudi is striving to host the World Cup, but it is not hard to imagine that Messi would still be the poster-boy of the tournament, or even the glittering face of it. Maybe, he would hand over the trophy to the winners, clad in the traditional Middle Eastern cloak. It's like you need Messi to host the World Cup, either as their ambassador or playing for the club they are pay-rolling.
Messi lifting the trophy with the black bisht, thin and see-through, wrapped over his Argentina shirt by the emir of Qatar, Sheikh Tamim bin Hamad al-Thani, could well be a symbolic moment. A symbol of vaulting sporting ambition, to promote a sport-loving, outward-facing image, a thick coat of paint to wash over their supposed conservative image.
To a large extent, it worked in Qatar. Lazy stereotypes were busted, Qatar gained acceptance and won a lot of love. Saudi would believe the ploy of making Messi its tourism ambassador could be a perception breaker. The country should not be projected as some kind of evil. It has money and resources, it wants to remould its image, and for that it seeks some of the most recognizable faces in the world. Football stars are the safest bet too.
So Messi could shutter down his glorious career in Saudi. As would Ronaldo, who is already playing in the Saudi league. Other greats in the sunset of their career could join them, and make Saudi an unlikely destination for the semi-retired titans. It's not because Saudi wants to improve the standard of the league, or the game in the country, but to create a brand and image, just as it was for Qatar when it acquired majority stakes in PSG. Had the intention been to construct a world-beating club, they would have aspired to create a system and structure, and not make an aimless ensemble of expensive players. And there's no bigger brand or powerful image-builder in the world than Messi. If any, Messi's real association with Saudi might have just begun, and that makes him neither a saint nor a devil.