Editor's note: As the years go by, migrating to other countries has become increasingly popular, particularly for Nigerians (and Africans generally). Japa, we call it. For the next 10 weeks, Imo Ekanem, in partnership with BellaNaija Features, will explore what it means to live in Italy as an African professional. We'll talk about how Africans live, work, deal with discrimination, and so on. 
Imo Daniel Ekanem was born in Lagos, Nigeria and was raised in Modena, Italy. She is the founder of Design and Arts Hub, a design and fashion hub that supports emerging designers. She is also a business partner in The Movie Citadel, an ambitious project that will transform an Italian town into a movie set and hospitality location for movie productions from all over the world. Despite being in Italy since she was three years old, Imo still finds ways to connect to her Nigerian roots. She's been working in the creative industry since 2013 and will share her journey in Italy as a Nigerian. 
This partnership aims to cast the spotlight on successful African immigrants in Italy, bringing you stories of their everyday lives, especially in the fashion industry. In this conversation, Imo shares what it means to live in Italy, her professional journey and advice to Africans willing to move to Italy.  
We are excited to be having this conversation with you today, Imo. How are you feeling today?
Thank you for having me, BellaNaija. I am feeling quite alright, thanks for asking.
Great! Let's get right into it. You've been in Italy for a very long time. How has living in Italy been so far as a Nigerian?
I have been living in Italy all my life, without a clear idea that I was Nigerian. I was just me, living a happy childhood, eating Italian and Nigerian food, playing with blond Barbies and black dolls, and listening to English, Ibibio and Italian every day. Enjoying my father putting on his vinyl collection of African-descent artists from the geri curl head Lionel Richie, the explosive Tina Turner, the diva Whitney Houston or Nigerian music king, Fela Kuti and more traditional Nigerian music. Enjoying my mum putting me to bed with African lullabies. I would define it as a rich life, rich in values, two cultures, two accents, and two menus every Christmas.
That's very interesting
It is. In the 80s and 90s, we have been among the few dark-skinned people in the country, in the city, but I was surrounded by a strong Nigerian community, going to church every Sunday, spending a lot of time with my cousins living next door as I equally spend enough time with my Italian friends from school who I was in love with.
Pretty much my childhood and teenage years were spotless and not linked to any rational moment in which I had to recall my African identity or separate it from my acquired Italian identity. They were both completely merged together like a colourful and soft jelly. My entrepreneurship soul comes from my Nigerian roots, my love for fashion and art comes from Italy.
Growing up, I started realising that in every class at school, I was the only dark-skinned girl. Usually, we were like two in all the schools I went to. At the university, it was the same and in some places of work, or companies, it was exactly the same. After a few trips back to Nigeria and studying Political Sciences at the university, I started becoming aware of what it means to be African, how powerful and historically rich the continent is, and that Africans deserve better. Why were there no other dark-skinned people enrolled at the university to become engineers, lawyers, doctors, or politicians?
I asked myself questions and I realised around 18 years old, that almost everyone needed to go to work to emancipate and support their family, so a few Africans were able to break the cycle, maybe leaving the opportunity to the next generation -their mixed race or mixed cultured children will be able to do what they were not able to. I was one of the exceptions. I did not receive pressure from my family to bring money home. I took my time and graduated to find my professional path in peace. It is the same with my sisters who were able to go to university in the UK.
Give us a glimpse into your background and what brought you to Italy
My dad won a creative arts scholarship at the University of Siena, so he and my mother moved to Modena in their 20s. I arrived in Italy after them, when I was 3 years old. From that moment, Italy became my home and Italian became my mother tongue. In the house, my mother and father talked Ibibio dialect, English with their friends and Italian with me. I practised Italian in kindergarten, and later, added French in primary school. Growing up in a multilingual environment shaped the person that I am today and all the experiences and choices in my life are a result of that dynamic setting. 
I have a bachelor's degree in Political Science and International Relations. I speak 5 international languages (Italian, English, Portuguese, and Spanish and am on my way to getting more confident in French) and have a master's degree in International Business and Law for Private Companies and Public Administration. Everything helped me to prepare me as the entrepreneur that I am today.
Wow, Imo, that's impressive! Tell us about your professional journey back home and in Italy
In the first year of my master's degree, I have decided to enrol in the Erasmus Program. It's a program funded by the European Union that allows students from all over Europe to study for 6 months or 1 year in another state of the EU with a scholarship that will cover the tuition, accommodation and small expenses. My choice was a small town in the north of Poland where I spent six months at a private university. This period accelerated my independence. 
In my last year, I went to Germany to work as an Au Pair while I was preparing for my last university exam. During the year, I had the opportunity to be interviewed by a start-up company that hired me as an intern for their communication and marketing department. Once I came back to Italy, I worked remotely from home and realised that I could become a freelancer and work for more than just one client.
So I did that by opening my VAT. I started working for the Max Mara Group as a copywriter and continued as the communication and social media manager for the German start-up. From that moment, more and more artists and professionals wanted to collaborate with me through word of mouth. I continued to do research and trained myself on how to get better on social media for my client; What were their needs? How to communicate to their audiences? How to learn their languages through photos and videos and transform them into data and analytics? In those years, Facebook was born. Instagram, Tik Tok or Snapchat were not existing.
To better answer the question, I started searching for jobs in a moment of crisis in Italy but no one was replying to my work applications so I went to Germany just to change the environment, which prepared me even better to come back home and use my resources better. It was not easy at the beginning but I am very good at public relations, selling my skills, and talking to people to let them know what I do and it came out that a lot of businesses needed my services. I would have never enhanced these communication skills if I did not push myself into a new country and stretched myself beyond new boundaries.
Today, I am a consultant and digital marketer. I lead my non-profit dedicated to fashion companies and brands. I am working on launching my fashion tech startup company and I am the business partner and communication manager of Filmaremonti, an Italian company that brings movie producers to the Romagna region to shoot their movies while accommodating their crew in the spaces and studios based in a castle and the university centre in the town of Bertinoro. I love speaking all the languages I have learned since I was a child and being dark-skinned in a European country is just what it is: an opportunity to open the door to other talented dark-skinned people to join us and do amazing things.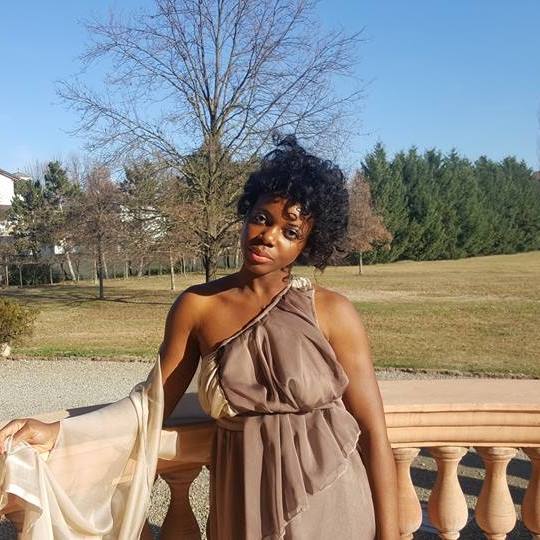 What are the challenges, lessons and high moments from your career journey as a Nigerian in Italy?
My finances were tight when I was just starting as an intern, having to pay taxes as a freelancer, having to make constant trade-offs, and seeing people who have actual generational wealth being able to start 10 steps ahead of you because their family has savings, houses, cars, and all of the things that I needed to buy for myself while starting from scratch. Would it have been different if I started from a land (Nigeria) that was mine by right? I'd never know.
My high moments are many. Every time I was chosen was the right moment for me. I know that what counts is that I was present, I put myself out there to take the opportunity when the opportunity came.  
I believe that you need to know yourself, your limits, your skills and your weaknesses. Work on what you can do better and get even better. Find your weaknesses and hide them well. Whether Asian, African, Indian or European, if your value is zero, there won't be any difference in what nationality you are. Your energy is what people feel and are attracted to. Your skills and talents are what your clients will actually buy.
We agree. Have you experienced discrimination or any form of pushback because of your race, country of origin, or accent? How did you deal with it?
My accent is very Italian. My passport was very Nigerian – which could be a pain especially when I had to travel for work or pleasure. I was able to apply for my Italian passport in my 20s to avoid the visa headache. This said, of course, there are racists everywhere and I think that I would be scared to meet an angry one in a dark street. Work-wise, I don't do business with anyone that is racist or anyone that has a discriminatory policy in their company, as that does not represent my values. I won't accept working for or with anyone that thinks that I don't deserve every blessing that I have. I am at a point in my life where I can choose who I want to work with and the clients that align with my purpose. 
In all the work experiences I had, I did not notice racist behaviours directly but it is common in Italy to receive jokes that are not funny and those are the result of a post-colonial attitude that is deeply hidden in the culture and hard to eradicate.
Indeed! You're at a point where you can confidently say you're successful, are there success tips you'd love to share?
Motivation, focus and good energy. I don't stop until I reach my goal.
We are certain there are a lot of Africans in Italy but some just got there. What are the little things/habits/actions they can adopt to help them thrive in Italy?
They have to know their power and know that their ancestors are right there with them.
What are the things Africans looking to relocate should keep in mind?  
Learn the language of the country you are going to, Italians love the effort. The same is valid if you relocate to Spain, Germany or other countries. It can happen that people are scared of the new, do your best always, be correct and honest, and the right people will come around. Know the law and the customs of the country you are relocating to and ask if you don't know; don't assume everything is the same as in your country. Don't be scared to make new friends, those will make your experience abroad worthy to be lived. If you have certain skills, please let the world know and don't settle for less. Nigerians are thriving all over the world, we wanna see more of it.
***
Many thanks to Imo Ekanem for having this conversation with us. Catch up with the next episode on Sunday. Do you want to be featured on BellaNaija or share your essays with us? Shoot us an email: [email protected]